There's plenty of advantages to living close to the ocean—think gorgeous sunsets, relaxing walks on the beach, and excellent seafood. You can even expect to experience health benefits from living near the ocean. This ranges from improved health, a lower risk of obesity, heart diseases, and other illnesses. Lucky for you, Rancho Santa Fe is in close proximity to some of San Diego County's best beaches. Ranging from popular beach destinations to off-the-beaten-track gems, we're here to give you the inside scoop on some of the best beaches around Rancho Santa Fe.
1. Moonlight State Beach
Located just a few miles away from Rancho Santa Fe, Moonlight State Beach is a spot that you don't want to miss. This immaculate beach, located in Encinitas, is one of the most popular among local families—and it's not hard to understand why. Here you will find easy access to the beach, free parking, great facilities, lifeguards, and volleyball courts. Additionally, the bonfire rings and picnic area make for great spots to have a summer camp out or celebrate a birthday party. Is there anything more relaxing than a fire and s'mores by the beach? Needless to say, there's something for everyone here! Plus, the sandy beach makes for a great spot to sunbathe, enjoy a picnic, or read a book. Recent upgrades, including the addition of a new snack shop, have further contributed to the beach becoming an exceedingly popular family destination. You can also bring your furry friends along for the ride, but make sure to keep them on the leash. Plus, your children will be sure to love playing at the playground. During the summer, this beach is especially packed as people seek to escape from the heat. Although there's plenty of parking, your best bet might be parking along Highway 101 rather than at the beach itself. But once you get to the beach, some time spent at Moonlight State Beach will be well worth it!
2. D Street Beach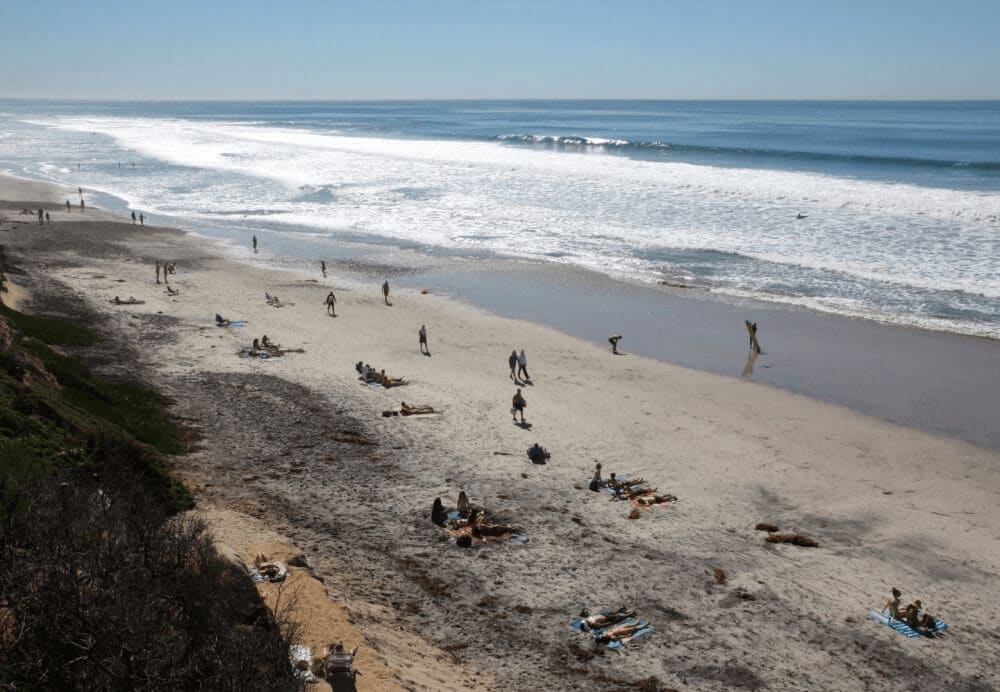 D Street Beach, also located in Encinitas, is just a short drive away from Rancho Santa Fe. Situated just one block south of Moonlight State Beach, this beach can be accessed at the west end of D Street. D Street ends at a beautiful viewpoint that overlooks the ocean, where surfers ride in on long, rolling waves. A large wooden stairway winds its way down the bluff to the beach, which is wide and sandy. Here, you can soak up the sunshine or get out in the water for some surfing. Lifeguards are on duty here every day during the summer months. Although close to Moonlight State Beach, D Street Beach offers a slightly more off-the-beaten-track experience for those who prefer to stay away from the crowds and have a more secluded day at the beach. There are no facilities or amenities on this beach, but you can easily walk up to Moonlight Beach if you get hungry or need to use the restroom. Plus, parking is usually plentiful and relatively easy to find along neighboring streets and residential areas.
3. Cardiff State Beach
Located between Solana Beach and Encinitas, Cardiff State Beach is another popular spot for Rancho Santa Fe residents to visit. This particular beach has a few of the best San Diego surf breaks around, attracting a wide assortment of both amateur and professional surfers. Additionally, Cardiff Reef and Suck-Outs—on the north side of Cardiff State Beach—are the home breaks of local professional surfer Rob Machado and the favorite spot to many local surfers.
If you're not into surfing, don't worry—there's still plenty for you to enjoy here! Cardiff State Beach is a great place to try your hand at stand-up paddleboarding. Additionally, the kelp beds here are well-suited for diving. Or, of course, you can always enjoy some rest and relaxation from the comfort of the sandy beach. You'll also most likely notice happy locals around the tide pools—looking for starfish, sea cucumbers, and other wonders of nature.
4. Swami's Beach
At the southern end of Encinitas, you'll find Swami's Surf Beach. This famous surfing mecca is considered by many to be a premier surfing destination. The parking lot has enough space for approximately 30 cars and can fill up quickly on the weekends, so be sure to get here in good time. If the parking lot is full by the time you arrive, more parking can be found along the highway shoulder. The park at Swami's Beach is the perfect vantage point for watching surfers or catching the sunrise—if you happen to be up before the sun. Plus, there's plenty of shaded areas on the grassy lawn to enjoy a picnic or connect with nature.
If you want to get down to the beach, the ramp and stairs will lead you right there. During low tides, some tide pools can be found at the point north from the bottom of the stairs. If you're getting hungry, you can find plenty of cafes and other restaurants just a short walk north on Highway 101. This includes the famous Swami's Cafe, a family-owned restaurant that specializes in fresh California cuisine. With the ocean breeze, attentive staff, and excellent food, it's hard to beat an experience dining here.
5. Stone Steps Beach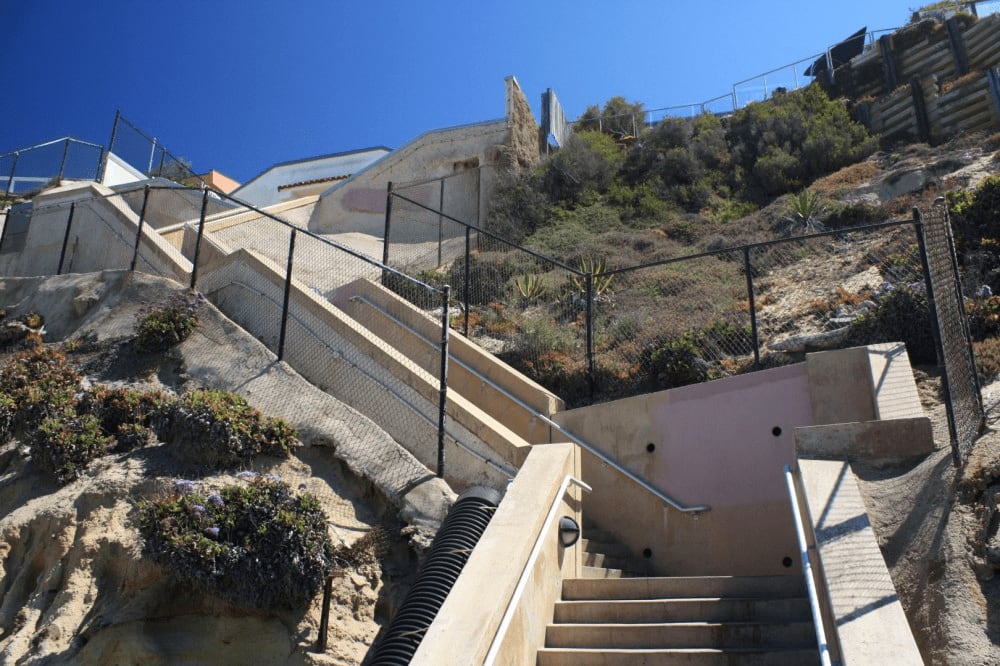 If you want to experience what it's like to be one of the locals, then head on over to Stone Steps Beach. This off-the-beaten-path beach is easy to miss, but this gem is worth exploring. The city has signed it as "Stone Steps Beach Access," but most locals simply refer to it as Stone Steps. As the name implies, you'll find an expansive concrete and stone stairway with nearly 100 steps that descend its way to the narrow beach below. The top of these steps provides a beautiful view of the Pacific Ocean that will take your breath away. The steps have become a popular spot for individuals to work out. A jog up and down these stairs is sure to get your blood pumping! The beach below is great for walking along or surfing, but please note that high tides will cover the entire beach in some areas. If you walk south along the water, you will reach Moonlight Beach, and if you travel north, you will come across Beacons Beach.
6. Fletcher Cove
Fletcher Cove is the main beach park in the City of Solana Beach. When arriving here, you can park in the public parking lot located at the Cove or opt for free street parking. Thankfully, parking is seldom a problem for visitors traveling to the beach by vehicle. Public access leads from the parking lot to the beautiful and pristine beach. Here you will find an assortment of excellent recreational opportunities, ranging from surfing, surf-fishing, swimming, jogging, and more. There are public showers, restroom facilities, a basketball court, and picnic tables located at the top of the bluff. Lifeguards are on duty year-round at Fletcher Cove, which makes this a safe spot to enjoy some good old-fashioned fun.
7. Tide Beach
Located approximately half a mile north of Fletcher Cove, Tide Beach Park is just minutes away from Rancho Santa Fe. Parking here is limited to free street parking. This park is equipped with showers, but there are no public restrooms. As the name implies, Tide Beach is most popularly known for its beautiful tide pools and large reef, also known as "Table Tops." The tide pools can be found in the park's northern border and provide an up-close-and-personal look into the ecosystem that makes up San Diego County. After marveling at the Tide Pools, there's plenty more to do here! Tide Park offers a myriad of recreational opportunities, including surfing, snorkeling, scuba diving, swimming, jogging, and more. Lifeguards are on duty during the summer months.
8. Seascape Surf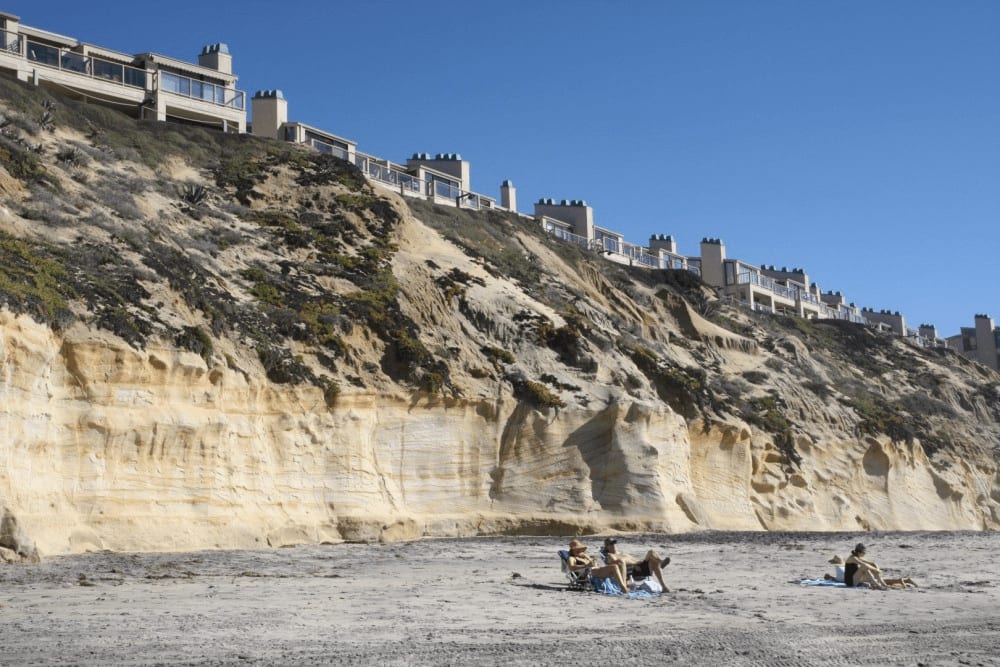 More commonly known as Cherry Hill to many surfers, Seascape Surf is another popular beach spot for Rancho Santa Fe residents. You can park in the public parking lot located across the street from the beach access or choose free street parking. This beach, which is located just half a mile south of Fletcher Cover, features a stairway that provides public access to the beach park. The wide beach provides the perfect place for activities such as walking, jogging, or perhaps even Frisbee throwing. Seascape Surf is also a popular spot for water-related recreational activities, ranging from surfing to snorkeling. Lifeguards are on duty here during the summer months.
If you're ready to explore all the beaches in Southern California, you'll need a house in the neighborhood. Lucky for you, Polly Rogers is an expert in Rancho Santa Fe real estate. Polly is an expert in homes for sale in Rancho Santa Fe, whether you are looking for a short-term rental or your next permanent home. Polly's expertise and passion will help guide you through the home buying process!