San Diego, California, is known for its enviable temperate climate, gorgeous coastal location, and exciting residential opportunities. Home trends are constantly shifting as the world around us does, and with people staying at home more than ever before, it is only natural this would affect what people want in their living spaces. With this in mind, let's look at a few design choices expected to be popular in San Diego homes during 2022.
Shades of brown
While neutral tones have been popular over the past few years, we will see them take a back seat as brown begins its comeback. While seemingly plain, this is an excellent warm color to bring into your home and comes in a variety of intriguing shades; chocolate, cognac, walnut, and more. This hue was prominent in the '70s when paired with oranges and yellows, but in 2022, brown is slated to be used with a variety of colors.


While wall paint may be your first thought on incorporating this trend, you can display it in many ways. Pillow designs, blankets, wood furniture, and cabinetry can all use this color.
Brown is excellent
to use as a contrast for lighter furniture or flooring or add warmth in a room that has cooler shades and materials. With San Diego's lush beaches, this color can also mimic the hues of driftwood, piers, and even darker sand tones. It can give any room an elegant and sophisticated look and will likely be seen frequently in newly stylized homes in 2022.
Nature-inspired decor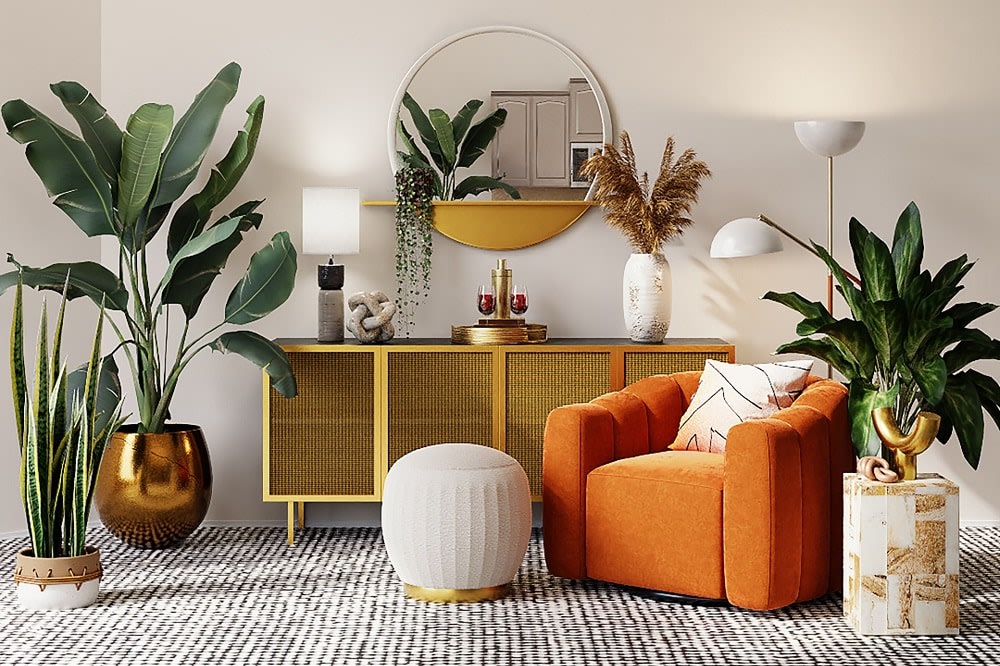 As people have transitioned to spending more time in their homes than ever before, there is a growing desire to incorporate
natural elements in one's home
. Nature is where we find relaxation and where we go to decompress, so it's desirable to recreate this atmosphere indoors.
Nature is so easy to use in every room by using materials like marble, stone, and terracotta, all of which are used on countertops, bathtubs, backsplashes, and tables. Crystal in vases or light fixtures can add a degree of extravagance to your rooms. Use wood shelving to contrast a light wall and find clay pots and bowls to use as decorations for your living room. Bring plants into your home to add a beautiful, nature-based decorative element and a pop of color.


If you need added inspiration, just look outside your window! Reflect on the elements of nature which appeal to you, and find creative ways to bring them into your home.
Curved Furniture
We have already seen this trend emerge in 2021, and it's projected to continue in this new year. Originally made famous in the '60s with its comeback in the '80s,
curved furniture creates a softer look to your rooms
and invokes an inviting atmosphere. Incorporating this trend will give your home a unique touch that will be sure to spark conversation anytime you have guests over.
Be dramatic with curved sofas, oversized coffee tables, chairs, and lamps, or opt for something comparatively more subtle where only a portion of the furniture features rounded edges, like armrests or table legs. This furniture can also be convenient, as its unusual shape can fit in areas traditionally-shaped furniture can't. Additionally, these types of furniture can match almost any style, so it'll be easy to incorporate into your space.
Venetian plaster and limewash
This trend is a new way to gesture to older styles. Adding texture to your wall is a fantastic approach to give your room dimension, and this technique will enhance and transform any color you choose for your wall.


On top of the striking appearance of this design, it's also non-toxic and eco-friendly. Limewash paint has also been found to create better indoor air quality. With more emphasis these days put on using materials and products that minimize the impact on the environment and create sustainable solutions, it's no wonder people are opting for this style. It's a technique to elevate your home while feeling comfortable about the materials you're introducing to your space.
Textiles and textures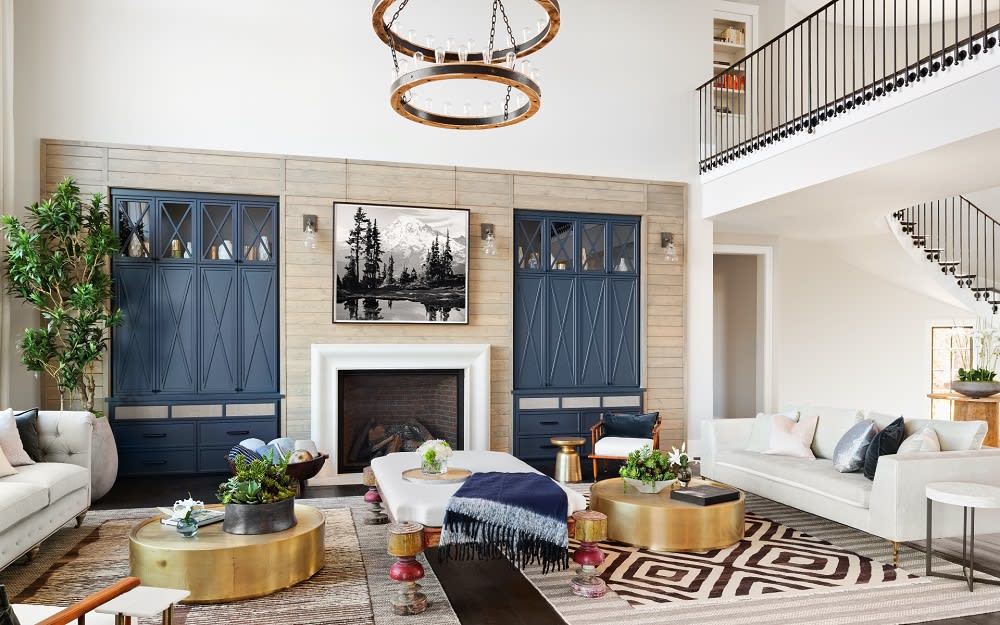 The use of patterns and texture in your home can be monumental in creating a visually stunning room. Texture allows you to feel the room without touching anything. Once you lay eyes on a textured surface, your sense of touch is affected too. With textiles, these give the room more personality and intricacy. Combined, this will give your space fresh and dynamic energy.


Rugs, tapestries, pillows, and blankets are all excellent conduits to bring this trend into your home. Placing an exciting rug under a plain table or couch is a way to utilize this trend without letting it take over. Remember, this should enhance your space, not be the defining element. Use this trend wisely to get the most out of it.
Dual-purpose rooms
As daily life continues to adjust to the times, an increasing number of people are working, taking classes, learning, and socializing at home. Consequently, having spaces with more than one purpose is becoming the standard. People now expect their homes to fulfill more needs than before, causing a
need for dual-purpose spaces
.
Double your home office as a gym or use the extra bedroom as a workspace. People are also outfitting areas like kitchens, living rooms, and bedrooms with storage spaces to house materials for work, school, and other areas of life. You also see people designing walls created explicitly as backdrops for Zoom meetings!


One of the most important things to manage with this trend is not allowing the double use of the space to make an area cluttered or hectic. Filling your space with organizational elements will help keep your space clear and your mind at ease.
Leather furniture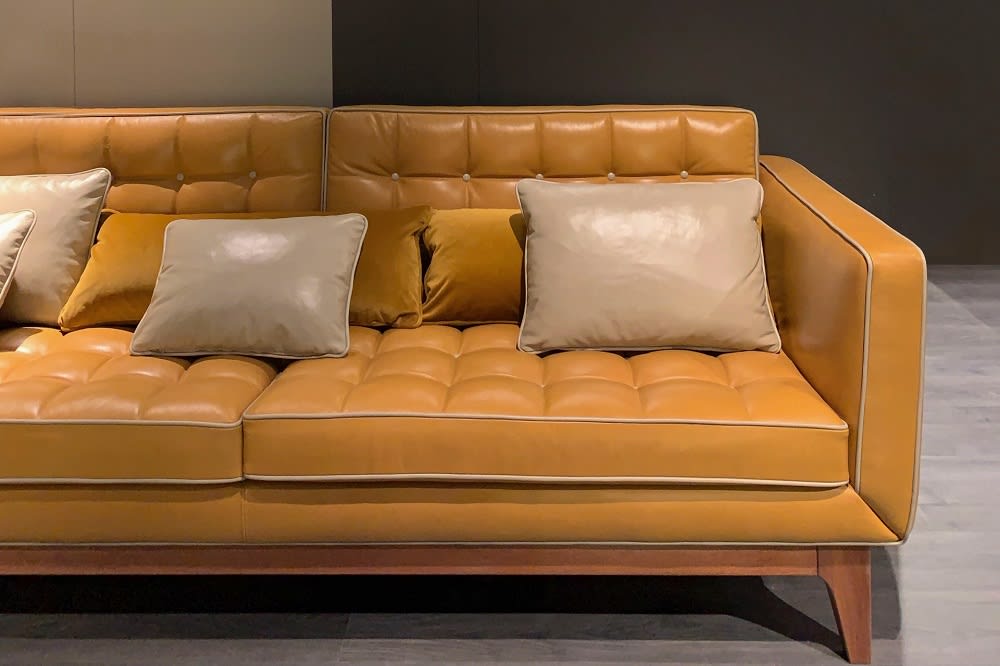 This trend can soften a room up and make it more elegant and sophisticated. You can make this trend work with any decor style, and leather furniture will elevate any space you put it in. It is also a fantastic way to do a double or triple trend if you acquire a piece of curved leather furniture in a shade of brown!
Besides its aesthetic appeal, leather is also sustainable and durable. You invest in pieces that will last much longer than your fabric counterparts by purchasing leather furniture. The color won't fade or rip as quickly, and, as long as you take care of it, this material usually only improves with time. Leather is exceptionally comfortable because it breathes, meaning it can rapidly adjust to your body temperature. It's also easy to clean, allowing you to not worry about staining if something spills.
The "grandmillennial"
The
grandmillenial trend started in 2021
and is a term to describe the tastes we see millennials incorporate into their houses. The term stands for "grandma" plus "millennial," so you see both of these groups represented in the decor.
Decorating for this trend is a throwback to a more traditional time with elements like floral and damask wallpapers, needlepoint cushions, blue and white china patterns, wicker lampshades, and tassels and skirts on much of the furniture. In 2022, homeowners are starting to combine those decorations with additional elements and twists, such as incorporating modern or contemporary styled furnishings giving this design an edge. There's also the opportunity to show off your personality by sewing current terms and slang into the needlepoint pillows. It's worth complimenting this design with actual vintage decor to bring the whole aesthetic to the next level.


If you're interested in learning more about home design trends in 2022 in San Diego or about homes for sale in Rancho Santa Fe, Del Mar, Encinitas & Cardiff, please reach out to
Polly Rogers and Associates
. The team would love to show you homes for sale in any of the lovely communities above, as well as in Carlsbad, La Jolla and other surrounding San Diego communities.