North County has no shortage of outdoor shopping malls and eateries to delight in. Are you hoping to find a beautiful beach home in Carlsbad or are you searching through the Del Mar real estate offerings while staying in the area? You'll definitely need a break to unwind with a little retail therapy. Lucky for you, we have rounded up several of the latest upscale shopping experiences in North County.
One Paseo (Carmel Valley, San Diego)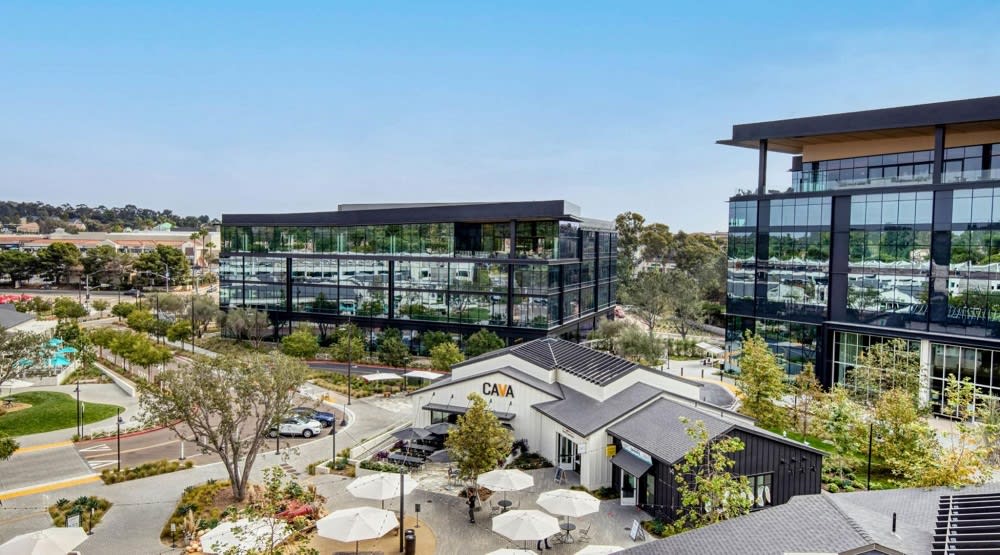 If you're looking for a shopping center that has it all, look no further than
One Paseo
in Carmel Valley, San Diego. The mixed-use shopping, dining, working, and events space can be found North of the 56 and just off Interstate 5. It is situated between Del Mar and Carmel Valley making it a perfect location to get some work done at a local coffee shop in the morning, do some late afternoon shopping, and stick around to meet some friends and family for dinner.
Are you looking to grab a few beauty essentials or break a sweat? You can get your heart racing at
Bodyrok
or
SoulCycle
, finish up with a blowout at
Drybar
, and pop over to
Sephora
for a few new beauty products before dinner. Be sure to check out the latest styles at
Whiskey X Leather
,
West of Camden
, and
Van De Vort
, and don't forget to grab a few gifts! Delight family and friends with wax candles, beautifully designed journals, and colorful throw pillows at
Pigment
or commission a custom piece of jewelry at
Marrow Fine
.
If you're shopping around for a new home or an investment property, One Paseo also has a number of residential communities close by, all located in either old Del Mar or in lovely Carmel Valley! Whether you are looking for a 4 br family home with pool-sized yard, or a vacation condo investment property you can come visit & enjoy anytime you want, Carmel Valley is a convenient location that really offers it all!
Del Mar Plaza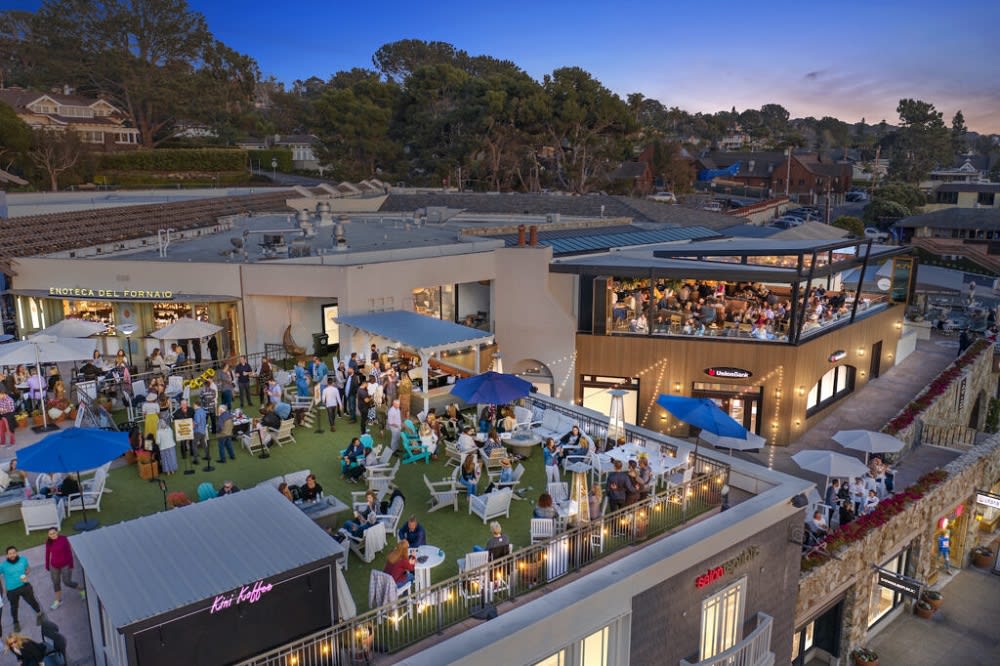 Del Mar Plaza
is conveniently located in the downtown area of Del Mar. It is host to a number of high-end shops, dining, and other personal services. If you are a dog owner looking to spend time with your pooch while crossing items off your to-do list, you will be happy to know that Del Mar Plaza is also dog-friendly!
Are you in town surveying the Del Mar real estate market? Be sure to check out the shops and events on offer at Del Mar Plaza while you're in the area. Fitness aficionados have a chance to delight in outdoor classes at
Kim Kelly Fit Studio
and the Ocean View Deck a few times a week. Following your workout, you can also check out the live music, tasty fare, and delicious specialty cocktails at
Monarch Ocean Pub
. If you're looking for something for the kids,
Sandcastle Tales
offers a weekly Bilingual Story Time experience, which is sure to delight.
The Forum Carlsbad
If you are looking for a shopping center complete with the name brands you know and love, look no further than
The Forum Carlsbad
. While other luxury shopping centers in the area may host smaller niche brands, The Forum is home to your favorite brands from Anthropologie, Madewell, Johnny Was, and Lululemon to Apple. It is a one-stop shop for your favorite accessories, electronics, and clothing.
If you're in town looking for beach homes in Encinitas or Carlsbad and need a break, look no further. The Forum Carlsbad is conveniently located on the border of Encinitas and Carlsbad, making it a convenient shopping location for all of our coastal communities from Cardiff to La Costa/Carlsbad! Spend the day shopping for your favorite brands, dining in one of the various restaurants, or simply admiring the architecture and accents of the mall as you stroll outdoors.
Flower Hill Promenade
Flower Hill Promenade
, located on Via de la Valle in Del Mar, boasts a curated upscale shopping experience and dining in a clean and inviting outdoor environment. Though slightly smaller and more focused than other shopping centers on the list, it's not one to miss. Shop local and international luxury shops, dine at any number of the tasty restaurants with plenty of healthy offerings or attend one of the events on offer. Virtual cocktails and cheese at Venissimo anyone? Flower Hill is also home to Whole Foods for a quick food shopping stop, plus it is very conveniently located for Del Mar and Solana Beach visitors~ as it is just east of the famous Del Mar Racetrack!
Del Mar Highlands Town Center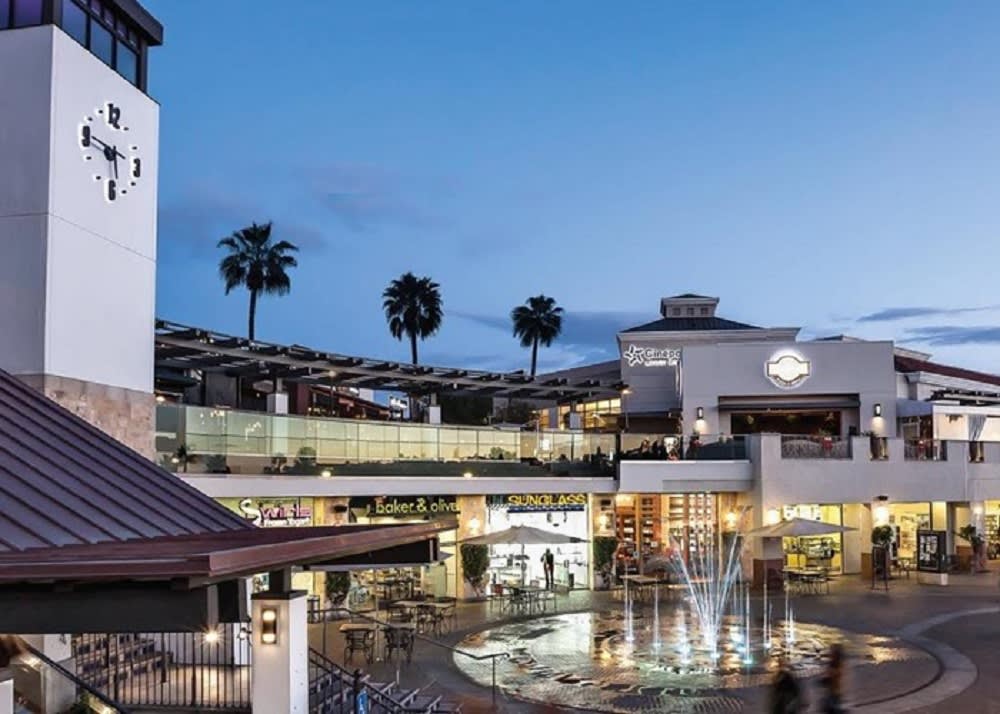 If you're looking for an outdoor shopping mall that is perfect for the whole family, check out
Del Mar Highlands Town Center
. Here you can shop specialty stores and boutiques, partake in a number of services and dine or drink to your heart's content. The
Sky Deck Restaurant Collective
is also a favorite of visitors to Del Mar Highlands Town Center and is not to be missed! The space touts maritime-themed decor, cold beer and kombucha, and a number of food offerings. It is best visited in the early evening for sunset views from the rooftop deck. Directly below the Sky Deck is Jimbo's Naturally, one of San Diego's local premier organic food shopping experiences! Also at Del Mar Highlands is the famous Cinepolis, for a very special cinema experience with dining and cocktails served during the show!
The Shoppes at Carlsbad
One of North County's staple shopping locations,
The Shoppes at Carlsbad
blends upscale shopping with affordable luxury. This shopping center can be found on El Camino Real in Carlsbad and is home to various shops, services, and eateries as well as a movie theater. No time to spend hours searching through specialty luxury retailers? The ample parking near most retailers makes The Shoppes at Carlsbad a quick stop at your favorite shop or an ideal place to spend the entire afternoon.
After a day spent viewing beach homes in Carlsbad or searching Encinitas & Cardiff real estate, a little retail therapy can go a long way. These shops have the perfect blend of upscale and affordable dining, brand-name shopping, and exciting events to keep you entertained well into the evening. With options like these, you may find it hard to leave.
If you're struggling to find your perfect beach home in Encinitas, Cardiff or Carlsbad, don't hesitate to reach out to experienced local agent
Polly Rogers
. Polly has expertise navigating the North County and La Jolla real estate markets. Whether you are searching for a forever home or second home by the beach, she can help you make this dream come true!