Oceanside
One of San Diego's most popular beach towns is Oceanside - as its name suggests, it's the perfect place to enjoy the ocean. This beach town has a laid-back atmosphere that's made for relaxing and vacationing. You'll find its stunning beaches ideal for outdoor activities, and visitors can enjoy its historic pier, too. Oceanside's wooden pier is almost 2000 feet long and offers lots to do and stunning water views. Take a stroll and check out the scenery, catch some fish, or dine at its lovely restaurants! The pier is a lovely place to go to in the evening, as it offers truly unbeatable sunset views.

You'll find many exciting events happening throughout the year in Oceanside, from live music and art walks to surfing competitions and triathlons. Its active community and many amenities make Oceanside a prime destination – there's always something exciting going on for visitors and residents alike. Some fun outdoor activities include bike riding, touring the town's colorful murals, surfing some waves, or even trying an e-scooter. There are lots of spots to rent all the equipment you'll need for these fun outdoor activities!

Another attraction in Oceanside is its Harbor Village. The harbor has so much to discover - cute shops, yummy restaurants, even a lighthouse! At the harbor, you can also book a whale-watching trip or rent a boat for fishing. A day trip to Harbor Village promises fun for the whole family. With so many opportunities for fun at the beach, water activities, and exploration, Oceanside is a can't-miss destination for people seeking waterfront fun and relaxation.
Carlsbad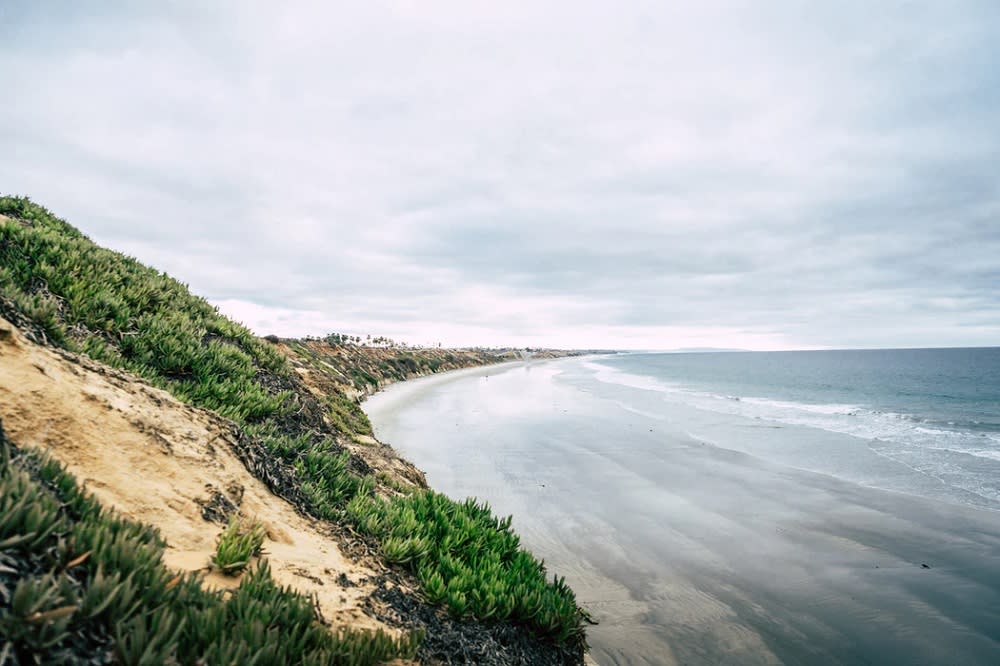 Carlsbad is another San Diego waterfront destination to love. Founded as a spa town for its natural hot springs, tourism is still a core industry for Carlsbad, with many picturesque beaches and luxury resort spots to book. Carlsbad offers its residents and visitors many fun activities, and this coastal city is particularly renowned for its golf courses. Try touring its most famous at the Omni La Costa golf courses and Aviara Golf Club. The Crossing at Carlsbad is especially unique, as you can golf by the ocean and experience views of the Pacific as you play its 18-hole championship course.

If you're looking for a fun place that the kids will love, visit Carlsbad's LEGOLAND amusement park, which even has a LEGO-themed water park. There's tons of shopping and dining, too, such as at the 80-plus stores found at the Carlsbad Premium Outlets. Score yourself a luxury accessory to wear out to dinner! With so many resorts around, there are many choices for having a nice dinner out, so check the resort you're staying at for can't-miss places to eat.

Carlsbad hosts many seasonal events throughout the year. If you go in May or November, be sure to check out the Carlsbad Village Faire, the largest one-day street festival in the country. You can enjoy free live music every Friday at their TGIF Concert in the Park series in the summertime. And if you're visiting in September, check out the Carlsbad Music Festival, which headlines a wide variety of music. No matter what time of year, there's always something fun and exciting happening in Carlsbad. The city's exciting activities, great resorts, and gorgeous beaches make this a prime coastal destination to visit in San Diego.
Del Mar
Known for its old-world atmosphere, Del Mar has been one of San Diego's top vacation spots for decades. You'll find many 5 star resorts to stay at, with fine dining experiences and the best amenities around. Spend time at one of Del Mar's sandy beaches, perfect for relaxing, swimming, and more. You can even bring your dog to Del Mar's famous off-leash dog beach!

The shopping opportunities in Del Mar are endless. At Village of Del Mar, find some retail therapy amid gorgeous Tudor-style architecture. The Village has beautiful boutiques and stores to browse through, as well as cute patios perfect for a break and grabbing a bite to eat. If you're interested in upscale, high-end shopping, then you'll love what Del Mar Plaza has available. Enjoy the stunning views of the Pacific Ocean as you shop, as well as sculptures and fountains placed throughout public areas.

Del Mar has unique activities as well, such as its famous hot air balloon rides. A breathtaking way to see California from above, you can take one up to a 3000 feet elevation. Del Mar's geography allows you to choose between going during sunrise or sunset, which most places in the world cannot do! If you want to explore more of Del Mar's breathtaking outdoor scenery, check out Los Peñasquitos Canyon Preserve. Bike ride or hike through its 4000 acres, filled with amazing wildlife and the natural beauty of the canyons. With an atmosphere you can't get anywhere else, Del Mar is a unique coastal destination in San Diego.
Encinitas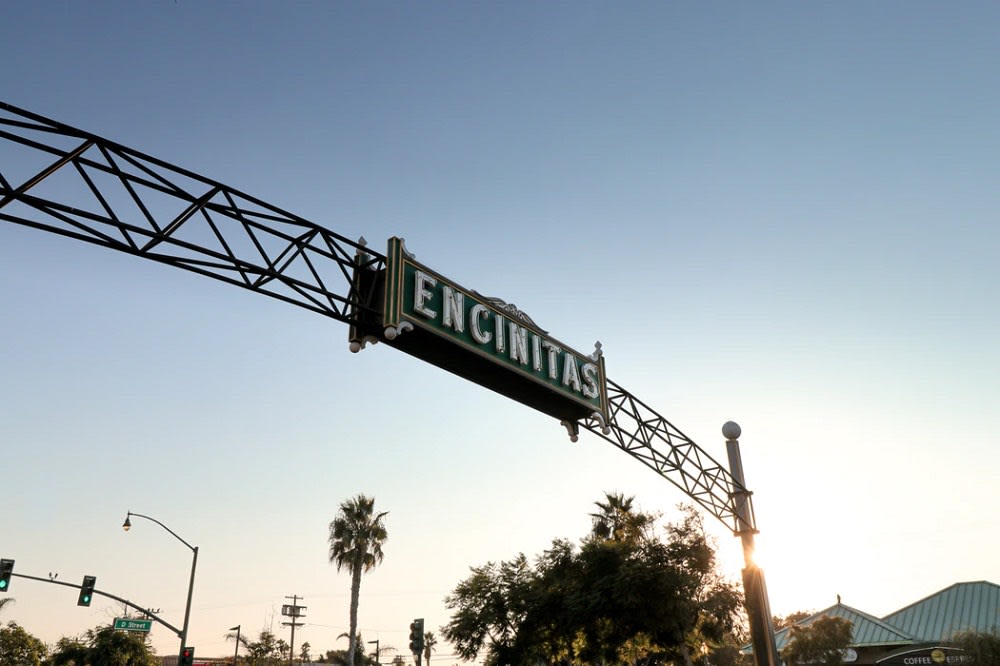 One of California's classic surf towns, Encinitas is a beautiful place for a San Diego coastal getaway. Located on the Pacific coastline, Encinitas has terrific beaches to discover, explore, and relax. Expect a lot of vibrant colors, as Encinitas is renowned as one of the flower capitals of the world. So be sure to check out the famous San Diego Botanic Garden while you're in Encinitas for an awe-inspiring and beautiful collection.

If you want to surf, a popular beach in the area is Swami's. Here, you'll be able to catch some world-famous waves. Swami's is so famous for surfing that it's been the inspiration for songs such as the Beach Boys' "Surfin USA"! Moonlight State Beach makes for a fun beach day out, as it offers a large sandy shoreline, a playground for kids, spots to play beach volleyball, and more. It even has an area for bonfires and barbecues! Moonlight is a particularly lovely spot to take the whole family to, for a day full of fun activities and relaxing on the beach.

If you love shopping, then you'll want to explore Encinitas' downtown shopping district. As the area is over 100 years old, many of the shops and restaurants you'll visit are located inside historic and charming buildings. Visitors and residents alike love attending the district's annual seasonal events, such as the April Street Fair, Fall Festival, and Arts Alive exhibition, which runs from February to May. Encinitas is the perfect spot for surfers, families, and more. If you're looking for a waterfront destination in San Diego, it could be the perfect paradise for you!
La Jolla
If you're looking for a waterfront exploration destination, La Jolla may be the perfect place. As one of the top travel spots in all of California, it's earned the nickname the "Jewel of California" to reflect its natural beauty and popularity. There's a lot to explore - one of the top things to do is to visit the famous La Jolla Caves. Book a guided kayak tour and see the natural beauty the Caves have to offer, as well as some local wildlife.

For another exhilarating, one-of-a-kind experience, book a hang-gliding trip at Torrey Pines State Natural Reserve. You'll launch from beach cliffs and glide over breathtaking views of La Jolla. Another way to enjoy the outdoors is by visiting one of the most photographed places in all of San Diego, Scripps Park. Families love coming here, with spots for picnicking, a children's pool, and plenty of chances to see the local wildlife. And speaking of wildlife, the park has a spot specifically made for whale watching!

After exploring the nature of La Jolla, go back into town and enjoy what its village has to offer. La Jolla has many cute boutiques that you won't be able to find anywhere else! With so much to explore and discover, it's a place that people of all ages will love and is suitable for family vacations and more. La Jolla is San Diego's answer if you're musing where to go for unique outdoor activities and stunning beaches.
Want More San Diego?
Now that you've explored some of the top waterfront spots that San Diego has to offer, you may be inspired to move. If you're interested in any of these waterfront spots, like Del Mar real estate or Carlsbad beach houses, get in contact with Polly Rogers to help you find the San Diego coastal home of your dreams.