Torrey Pines Golf Courses
You'll find Torrey Pines Golf Courses in La Jolla, where the golf comes with some of the most breathtaking views around. Sitting on top of cliffs that overlook the Pacific Ocean, you'll be surrounded by the beautiful seaside as you play your game. Torrey Pines visitors often report that they enjoyed the scenery just as much as the golf - you're really getting two amazing experiences when you play here!

In addition to two different, picturesque 18-hole courses to choose from, Torrey Pines offers amazing lessons for all experience and age levels. Its head golf instructor, Joe DeBock, is renowned as one of the top 50 teaching professionals in the nation. DeBock and his team deliver a curriculum aimed to help you learn new ways to lower your golf scores. Rental services are available for clubs, carts, and caddies, the latter of which will help you navigate the course with their knowledge on all things golf.

If you get hungry, visit Torrey Pines' bar and outdoor restaurant, where they serve tasty burgers, ice-cold brews, and more! Torrey Pines is the perfect place to go for golf if you're looking for an atmosphere that's just as spectacular as the course and game itself.
Maderas Golf Club

Image credit: Maderas Golf Club

Considered San Diego's top-rated course, the Maderas Golf Club's 18-hole public course is one of the best places to go for an upscale golfing experience. Play golf surrounded by its beautiful environment, with lakes, waterfalls, and lush plants local to the area. Conveniently located just outside of downtown San Diego, you can golf in a quiet and relaxing oasis but have the ability to be by the city for appointments.

Whether you're a beginner, or if you've been playing golf for years, Maderas Golf Club has everything you need. For newbies, Maderas offers lessons by trained professionals so you can learn from the best. You can learn paid-by-the-hour, or by playing a 9-hole game with your teacher. If you want to play but lack golf equipment, you can rent everything you need - all rentals are based on players' different abilities.

Maderas Golf Club also offers rental carts and caddies. These carts can accommodate up to four people, and the caddies will take your golf excursion to the next level. With in-depth knowledge about the course itself, they can spot tee shots, read putts, gather distance, and even do basic maintenance for you. Just be sure to book ahead by at least 24 hours for a caddy.

After you're done playing, you might be hungry. You're sure to love the exceptional food at The Grille, a casual restaurant located right on the course. With everything you need to have the best golf experience, Maderas Golf Club is one of the best golf spots in San Diego.
Colina Park Golf Course

Credit: Colina Park Golf Course

Colina Park Golf Course is an 18-hole golf course specifically made for golfers of all skill levels. One of the main things Colina Park is known for is its support of the non-profit group, Pro Kids. Through Pro Kids, Colina Park helps underserved young people learn life skills and more through mastering the game of golf. Because of their experience working with kids and people of all ages, this course is perfect for anyone, regardless of age or ability.

Colina Park's 18-hole course takes a little less than three hours to complete and is both a challenging and fun game. The course itself appears easy but features tee boxes that are elevated, which will challenge players alongside its 11 bunkers and two waterfalls. They offer golf lessons from pros used to working with all age groups and skill levels, so if you want to learn something new, you'll be in good hands.

Colina Park also offers another exciting activity, disc golf. Fun and simple, the goal of the game is to throw discs into a targeted area. Like classic golf, you want to have the lowest score possible by successfully getting your discs into the goals with the least amount of throws. Disc Golf is offered on Mondays and Thursdays.

If you're hungry during your time here, you can visit Colina Park's pro shop, where you can find food, drinks, and other golf equipment you might be interested in to up your game. If you want to play a round on a lovely course that also supports a great cause, try checking out Colina Park Golf Course.
Coronado Golf Course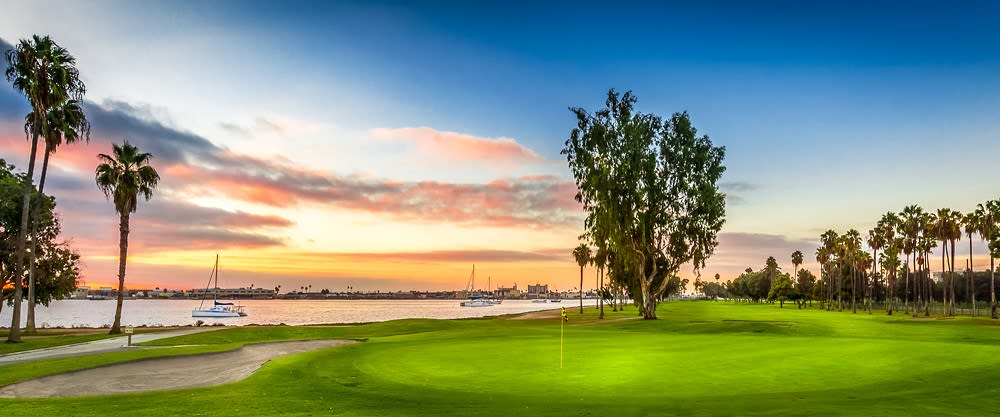 Image credit: Coronado Golf Course

Named one of Golf Advisor's Top Golf Courses in California in 2020, Coronado Golf Course has been well-loved by its visitors since its opening in 1957. You'll love this beautifully kept 18-hole course, which is known for its exceptionally good weather and beautiful views. Located right by the San Diego Coronado Bay Bridge, you'll experience spectacular views of downtown San Diego and the Coronado Harbour. Coronado is the kind of course where the spectacular sights match the high quality of the game itself.

Whether you're a golf beginner or an experienced player looking to learn a few new things, this course has wonderful instructors available to get you playing better than ever. They aim to do so by helping you find your most effective clubs and teaching you to putt better. Coronado Golf Course also offers convenient services, such as carts, club rentals, and so much more.

If you want to grab a bite to eat on your golf day out, then you'll enjoy a visit to the course's restaurant, Feast & Fareway. They offer a delicious brunch menu and a range of specialty cocktails. Coronado Golf Course has a long-running reputation for golf excellence for good reason, so be sure to check it out if you're looking to golf in San Diego.
Reidy Creek Golf Course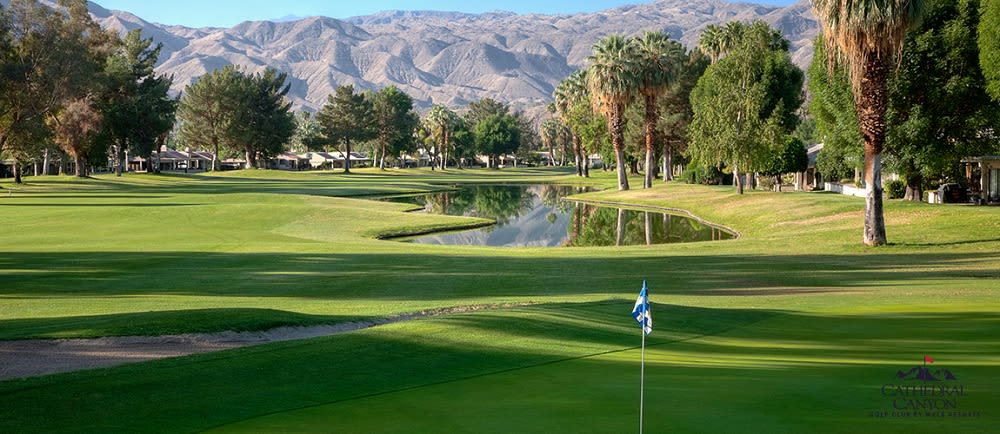 Image credit: Reidy Creek Golf Course

One of North County's best courses, Reidy Creek Golf Course has everything you need for a nice day out golfing. Its par 3 course is one of the most challenging of its nature in the entire U.S. - Built in a valley, its designers took advantage of the unusual location when creating its 18 holes. Located at the bottom of the Escondido Mountains, you'll get to play golf in a beautiful environment. You'll literally play through the mountains, a unique experience you won't get anywhere else!

Reidy Creek has amazing instructors if you're interested in beginner lessons or as a pro looking for a few new tricks. If you want to try something completely new, Reidy Creek offers both disc golf and foot golf. Foot golf, like its name suggests, is a mixture of soccer and golf. Both games are fun to learn and play, and Reidy Creek's stunning environment really can take these new experiences to the next level. They have experience working with people of all ages, so it's a great spot to go to with friends and family.

Be sure to hit up Reidy Creek's on-site bar, the Creekside Tavern, before you leave. Here, you can enjoy local craft beers, wine, and other drinks, and can also order tasty small plates and snacks. If playing traditional, disc, or foot golf in an elevation-changing environment is something that appeals to you, then this North Valley course is the place to go.
Mt. Woodson Golf Club
Another North County course, you'll love Mt. Woodson Golf Club for its game and how lovely its course looks. With a great climate and perfect environment for golf, every hole here is themed and appropriately named - for example, you'll find sand terrain at "The Beach" hole. Other unique features include the course's 450-foot wooden bridge, which overlooks the canyons and offers a fantastic view of the surrounding area.

On top of Mt. Woodson's charming design and great views, the golf club offers lessons catered to your own personal needs. You'll be sure to love their bar and grill, Stony Mountain, which offers hearty American breakfast and lunch fare - try their classic clubhouse sandwich. With an extensive 6000-yard, par 70 golf course, you'll love all that Mt. Woodson Golf Club has to offer.
Looking for More San Diego?
Now that you've discovered more about San Diego and the North County area, you might be interested in real estate. If you're looking for a home in the San Diego metro area, including Del Mar properties and Carlsbad real estate, Polly Rogers is the person to talk to!