Located about 25 miles north of San Diego, the Coastal North County area is beautiful, family-friendly, and conveniently located. From Encinitas to Solana Beach, there are so many idyllic areas to explore. Are you moving or considering a move from San Diego to Coastal North County? If that's the case, we've compiled a guide to determining which North County neighborhood is right for you.

North County comprises inland and coastal communities above San Diego, including Del Mar, Solana Beach, Encinitas, Cardiff, Leucadia, Carlsbad, and Oceanside. If you're tired of the hustle and bustle of San Diego, but want easy access to a major city, then one of these areas might be your next move. Let's explore them:
Del Mar

Credit: City of Del Mar
Driving north from San Diego, you'll first arrive at Del Mar — a stunning, historic community that boasts quaint charm and European flair. With world class beaches, shopping and hotel accommodations, Del Mar, once the destination for Hollywood's elite, remains a prime vacation destination attracting visitors from all over the world!

Stop by the vibrant Del Mar Plaza, which offers excellent shopping and world-class restaurants in the heart of Del Mar Village. You'll love browsing the boutiques and trying fantastic gourmet cuisine here! There is also the famous Del Mar Race Track, where thousands gather in style to watch the most exciting horse races around.

Del Mar Village is an outdoor, walkable community full of unique shops and delicious restaurants. Explore the Del Mar Farmers Market or any of the artisan jewelry options. If you're looking for a delicious bite, try brunch, lunch or dinner at the upscale seaside eatery Jake's, or coastal cuisine favorite Poseidon Restaurant, both of which are located right on Del Mar's pristine main beach.

Speaking of beaches, Del Mar even has "dog beach" a beautiful beach dedicated to allowing dogs to both play on the beach & in the ocean, enjoying the sun and sand with their owners. If excellent schools are your priority, Del Mar offers excellent options within the acclaimed San Dieguito District, including Canyon Crest Academy, Torrey Pines High School, Earl Warren Middle School, as well as award winning elementary schools! A true family-friendly community, as well as a destination resort area.
Solana Beach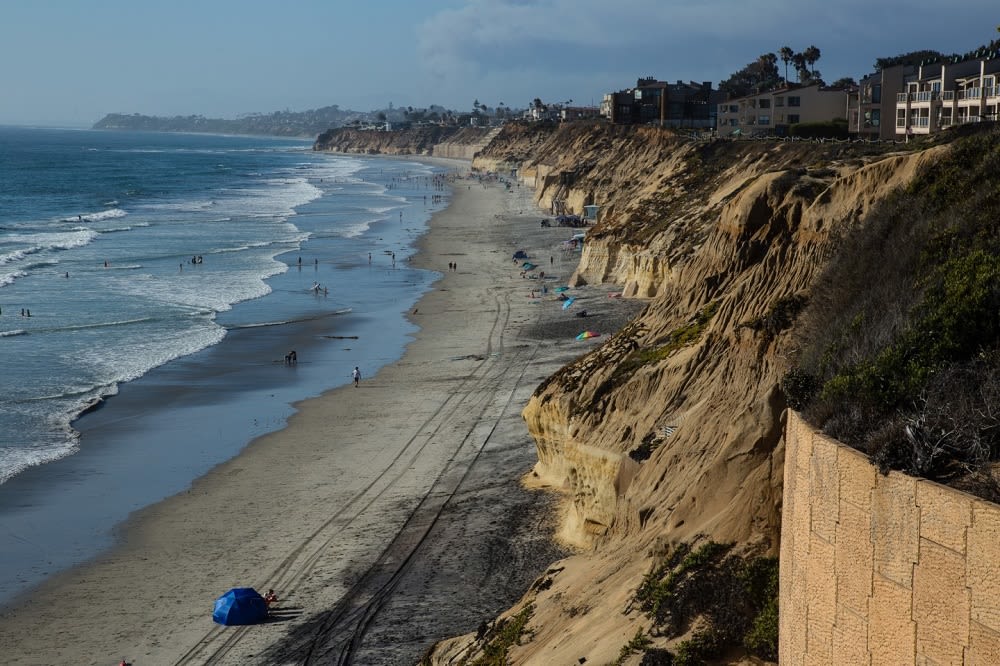 Credit: LA Times
Just North of Del Mar you will find Solana Beach — a sleek beach town located along 1.7 miles of pristine coastline. The area's natural beauty is a major calling card, with unbeatable sunset views at Fletcher Cove Park. The town hosts summer concerts, has a farmer's market and casual sophistication with many second home options as well as lovely primary homes for full time residents.

Grab a cup of coffee and a delicious breakfast or lunch at Claire's on Cedros, or for another excellent option with different fare, be sure to visit the quaint French-inspired Madeleine Cafe & Bakery~known for its excellent lattes, crepes & French-inspried salads, sandwiches & home made pastries! Both restaurants are conveniently located in the Cedros Design District on Cedros Avenue, just a quick walk from the beach, and numerous sensational home design resources!

Enjoy countless little boutiques and art galleries, plus enjoying numerous world class restaurants for lunch and dinner! The Solana Farmers Market runs on Sundays and is another lovely spot for food & flower shopping. Two of the area's most esteemed elementary schools are Solana Vista Elementary School and Skyline Elementary School — both prepare young students for strong academic futures, and are in the excellent Solana Beach Elementary School District.
Encinitas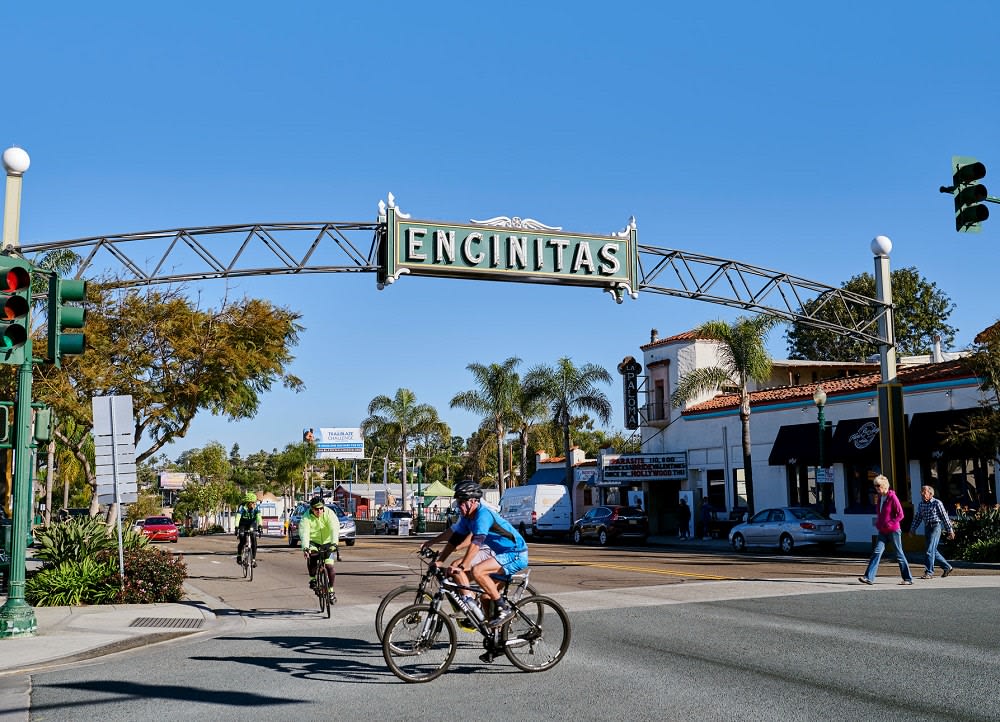 Credit: New York Times
Between Solana Beach and Carlsbad are two communities~Cardiff by the Sea, and Encinitas/Leucadia — both communities are historically charming and modernly sophisticated. Encinitas & Cardiff are home to approximately 60,000 residents who love their breathtaking beaches, world-renowned golf, and an array of lush family and dog-friendly parks. If you're a nature lover, then this might be the place for you! Explore the world famous San Diego Botanical Gardens, or try to spot the over 300 bird species that call Encinitas home throughout the year.

Encinitas' bustling downtown Business District balances the area's natural appeal with its varied dining and shopping options. Top restaurants include Le Papagayo, Valentina, and Plumeria which is a Thai vegan restaurant that locals adore. You'll have a great time enjoying "Encinitas Summer Nights", a monthly summertime celebration where locals and visitors can view vintage cars and Woodie Surf Wagons at fun-filled car shows along Highway 101, featuring bands and festivities~ and of course all of the great restaurants are open for you to enjoy as you watch the vintage car parade going down Coast Hwy 101, just like the "good old days" along the coast!

Like its neighbors, Encinitas also offers a large variety of very impressive schools, such as San Dieguito Academy High School and Encinitas Country Day School~that are just two of the numerous excellent options. Truly family friendly, with miles of world-class surfing beaches, the dual communities of Encinitas & Cardiff have truly earned their reputation of being "Surf City USA"! Come and play and enjoy!
Cardiff
Cardiff — also known as Cardiff-by-the-Sea — is a small community that was incorporated into Encinitas in 1985. As its name suggests, this area is best known for its coastline, which offers sweeping views and miles of pristine beaches with fantastic surfing conditions. One of the prime beaches is also open to campers, with the campgrounds at San Elijo State Beach attracting the most beach bound campers throughout the year.

Although this town's natural charm is a huge part of its appeal, Cardiff also has a quaint downtown area with a world class market, restaurants & shopping, & the infamous "VG Donuts"~a local institution! The Pacific Coast Grill is an excellent upscale seafood destination right at Cardiff Reef Beach, while just across the highway Las Olas has the best fish tacos in the area. End your active day in the sun with a delicious seafood meal, and say hello to your new, laid-back Cardiff~Encinitas lifestyle.
Leucadia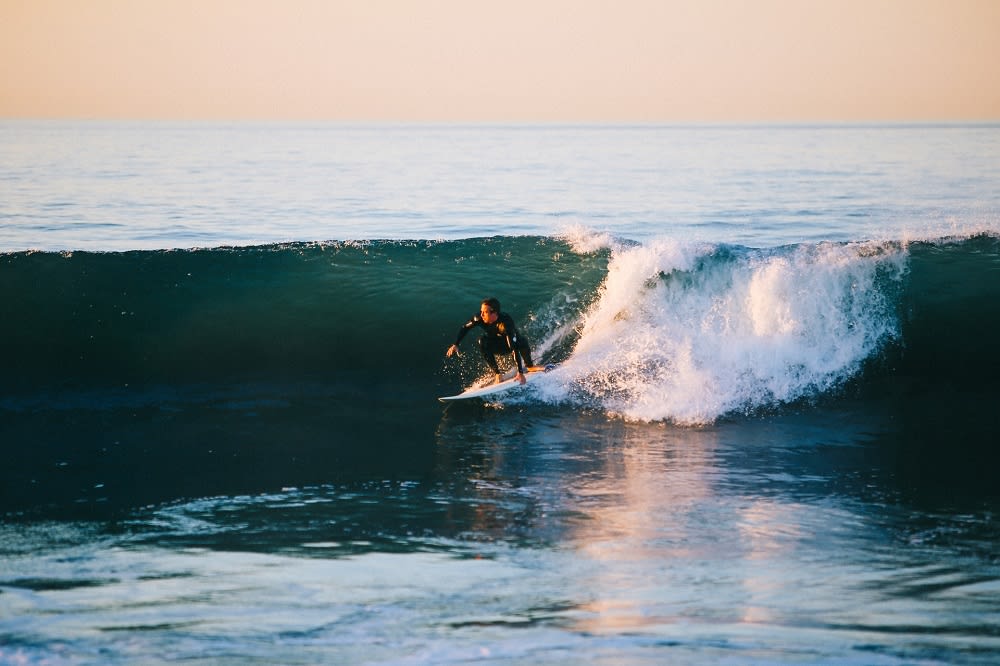 Another Encinitas community is Leucadia, which is best known for its unbeatable beaches and strong surfing culture. If you're a water-lover, grab your surfboard and head to Grandview Beach, Beacon's Beach, Moonlight Beach or Stone Steps, or walk along the coastal shops for home decor, a new surfboard, and original works of art!.

Some other perks of this small, charming town are the Leucadia Donut Shoppe, which makes fresh, perfectly sweet doughnuts. Excellent dinner restaurants as well, like Le Papagayo, Vigilucci's and so many more! There's also the Sunday morning Leucadia/Encinitas Farmers Market and Art Fair, where you can support local vendors and artisans as you shop organic and appreciate original works of art.
Carlsbad
Carlsbad is one of the larger coastal cities, offering the famous Legoland California Theme Park, the Carlsbad flower fields, and the ultra-private South Carlsbad State Beach. Most of the area's beaches don't belong to Carlsbad itself but to the state of California. They're excellently preserved, and their surrounding trails are perfect for long, leisurely walks.

Carlsbad is a great place for people who want to be in a relatively robust city near the water. Families love renting pedal boats to spend the day on the water on Carlsbad Lagoon, as well as exploring the tree-lined streets with art galleries, boutiques, and upscale retailers. Residents also enjoy an excellent variety of restaurants and breweries, including California Beach Bistro and Arcana Brewing — try their locally made craft beers. Parents can also rest assured they're children will be well-educated in Carlsbad, as Aviara Oaks Elementary School and Sage Creek High School are just two of the area's most esteemed educational institutions.
Oceanside
Oceanside is all things ocean with a variety of options!! True to its name, Oceanside is a lively surf town with an extensive boardwalk, the classic Oceanside Pier (perfect for long walks!) and plenty of entertainment options. Oceanside Harbor is best known for its beautiful marina, water activities, including deep-sea fishing & whale watching excursions!

The oceanside pier offers beautiful views of the surf crashing below, plus two very good restaurants~ while the California Surf Museum is a MUST SEE, providing in-depth look into the history of surfing~and the best way possible~from local insiders with historical local perspective! Oceanside is also known for its up-and-coming dining and wine tasting scenes. In terms of educational opportunities, students can attend South Oceanside Elementary or Pacific View Charter School — both of which receive constant A ratings.

Looking to move to coastal North County?

Contact Polly Rogers. Polly and her team will be happy to help you find the North County home of your dreams!